21

Wow! I finally made a finished version of my LD39 game. Overall, I am fairly satisfied with this game, if not super enthused. I had to make many concessions to fit it into the token count. However, it is a surprisingly fully-featured procedural platformer, and it is something I am proud of.
Help Harry escape the procedurally generated caves!
How to play:
​Walk and climb - arrow keys
Burp (attack) - X
Jump - Z or C
Dig - down arrow
​
Tips:
Harry will starve if you don't eat mushrooms along the way. Make sure to grab them!
​the caves are randomly generated every game. If you get a tough set of caves, don't be afraid to try again!
If you get enough mushrooms, a powerup will appear above harry. GRAB THESE! they are they key to running faster, jumping higher, and burping harder!
​PRO tips:
​when harry digs on flat ground, he will pile up the ground behind him. Use this to build platforms to help you climb higher.
the escape for each level is at the top, in the middle. If you find a way to break the ceiling, however, you can use that too!
Your hunger will occur at a faster rate each level. Mushrooms are almost always worth a detour.
You can jump for quite a while after walking off a ledge. Use this to your advantage!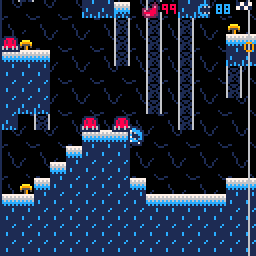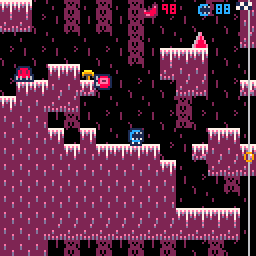 changelog:
v1.1 - Oct 31 '17
added text to harry's intro that points out your burping ability. Non-pico8 players did not know to try pushing X.
increased frequency factor of mushrooms from 1.5 to 2. SHould make things a bit easier.
P#45673
2017-10-30 21:48 ( Edited 2018-03-30 11:35)


13

Poor Harry! He was taking a nap when the ice broke from under him! Help him climb out of the caves, and make sure he gets enough mushrooms to eat before he starves!
To play:
Arrow keys - move
Z - jump
Down - dig a hole
Up - climb most surfaces
I can't believe I finished this in time. It is pretty bare bones, but I am happy with it. I wish I had the time to add in enemies, but there you go.
Here is the link on Ludum Dare's site: https://ldjam.com/events/ludum-dare/39/hungry-harrys-climb
Congrats to everyone who finished LD39!
-PBG
--edit Aug 1:
I've tried to clear up some confusion for LD39 participants. It is now hopefully clearer that the first level is actually a level that can be beaten. Also, i added a super-jump (hold up and jump) that should help with some of the trickier levels. The super-jump burns food though, so don't go crazy.
--second edit:
I removed the super-jump. This felt against the spirit of ludum dare, in that i was adding an ability after the competition ended. However, i DID fix the level generator so that all levels can be beaten - i feel that this was a bug fix.
-- edit 3
People keep digging through the floor, so I had to hardcode that to be impossible. Fix made for LD participants
P#42934
2017-07-30 19:47 ( Edited 2017-08-09 00:13)



20

Hi!
9HOLE is a platformer where you are also golfing! Hit the ball to the hole (under par!) and then get to the hole yourself!
CONTROLS:
C,Z: Jump
X: Swing your club (hold the button for a harder swing!)
WHEN THE BALL IS AIRBORN:
Arrows: Move the ball (a little bit!)
C,Z: releas ball control and control the character again.
SECRET: if you find the game a little easy, try pressing "Up" repeatedly on the title screen!
I will be doing more of a post-mortem in a bit, but I wanted to get this game online. Happy playing!
-PaloBlanco
changelog:
v1.1:
added tutorial text to level 1
fixed (hopefully!) spraying particles when your ball sits next to a wall
increased particle counts and lifetimes across the board (makes the game a little flashier)
fixed level 2 so that there is no point of no return
adjusted a jump on level 5 so it is a little more forgiving
in the future:
bug fixes as they get reported
I would like to flesh out the music with one more layer
...that's it? I kind of feel like I've explored this idea to my content.
old version:

P#30452
2016-10-09 15:27 ( Edited 2016-10-12 15:51)
:: More