512px under
Year 4096. A burried building with lasers and traps. How many lives will it take to leave this place ?
Jump, wall jump and dodge lasers
18 memory cards to collect
32 rooms to explore (with lasers in them)
Auto-save
1 red cube
Lots of lasers !
Controls
Arrows : move
V (or X) : jump
C (or Z) : grab/drop
Move and jump
Grab and drop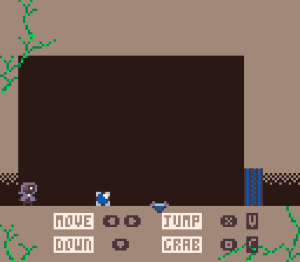 Wall jump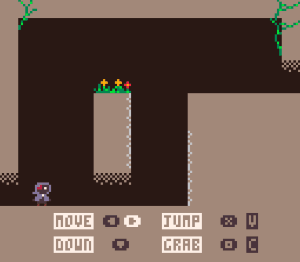 About
This game is my first Pico-8 game. It is also the first game I manage to finish after a few attempts with game engines such as Unity and Godot. It took me 1 month to complete the first published version. The Pico-8 restrictions allowed me to define a manageable scope for this game. In the end, I used the entire space available in the map editor and the spritesheet editor. The code uses every token allowed.
Changelog
v1-beta :
Update rooms (adjust difficulty on the main path)
Fix seconds and frame counters not being properly saved and restored
Auto-save state when close to a spawner tile instead of saving when changing room
Show which button to press to teleport and decrease button hold duration
Increase jump buffer duration and coyote jump duration (grace frames)
Decrease walk acceleration to make it easier to move by 1 pixel
Increase lamp range
Red cube won't spawn if there's no saved data
P#102471
2021-12-12 15:21 ( Edited 2021-12-15 00:14)

&nbsp 9 comments &nbsp