Pico-Sprint is a tribute to Super Sprint and my Xmas gift to Pico8 users :-)
Up to 4 players can drive like mad to finish first on 16 tracks.
Picked up wrenches can be spent between races to enhance your vehicle.
I tried as much as I could, but there's no music and only a few (ridiculous) sfx.
So if someone is kind enough to provide an epic soundtrack I'll be forever grateful.
As usual, comments and critics are welcome!
Merry Xmas!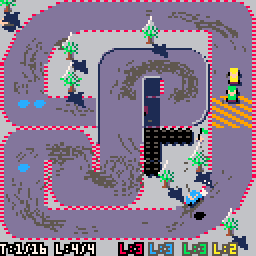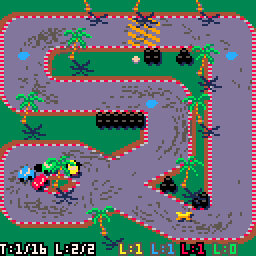 Version 1.01 : Tweaked cars' speed.
Version 1.02 : Fixed to work with 0.2.0 (thanks to @Felice)
Old version:

P#18029
2015-12-24 11:44 ( Edited 2020-04-23 11:38)

&nbsp 24 comments &nbsp
Small update: UI polish and code cleaning.
Little update: Added random skin/hair colors, and possibility to change teams' shirt color...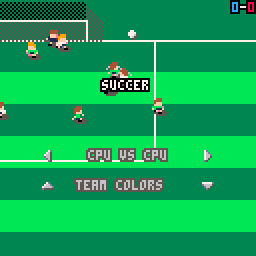 What's new: Less bugs, more sfx!
I consider it done unless you prove me wrong! (I still have a few tokens left ;D)
C&C are welcome as usual...
Enjoy!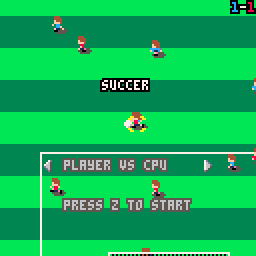 What's new:
0.8.1 quick fix to 0.8 ball teleportation bug
Some sfx thanks to Pizza
Better controls (ball stickyness, tackle effectiveness, ...)
Game integrated in the menu
Game timer, side changing, etc...
Still working on AI, sfx and debug...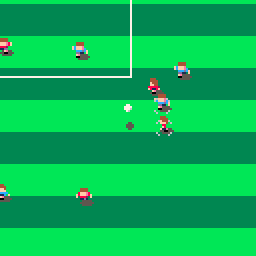 A soccer game inspired by kick-off and sensible soccer. (A friend told me it's actually football, but nevermind...)
Controls:
The controlled player has a grey cursor around him.
When the ball is close enough to the player so that he can shoot the cursor turns yellow.
When the ball is even closer the cursor turns orange and the player is in control of the ball : its movement impact the direction of the ball (he's dribbling.) But beware, the ball will never stick to the player!
When the cursor is orange or yellow, the player can pass to a nearby teammate with a short a_button press.
A longer press will trigger a shoot when released (the longer the press, the stronger the kick)
When not in range of the ball (grey cursor) a a_button press will trigger a tackle.
Moving the player during corner or goal kick allows to control the kick direction and power.
Known bugs:
AI is stupid, I'll try to improve it in further versions.
There's no fouls, penaltys, yellow/red cards. As tackling isn't super effective (and I'm short on tokens:D) I don't think they're worth implementing.
I hope you'll enjoy it and C&C are welcome!
P#15432
2015-10-16 11:18 ( Edited 2016-10-10 15:39)

&nbsp 29 comments &nbsp