If you're looking for a complete portable PICO-8 solution, good news! PICO-8 is going to ship pre-installed on Next Thing Co.'s upcoming PocketC.H.I.P. -- a complete portable mini-computer with built-in storage, wifi, keyboard, battery, touchscreen and everything else PICO-8 needs! The last few months, I've been working closely with the team at Next Thing Co. to create "PICO-8 C" -- a fully functioning and compatible edition designed to integrate nicely with NTC's hardware and software. It will be available to Kickstarter backers, or you can also pre-order one for just $49 bucks.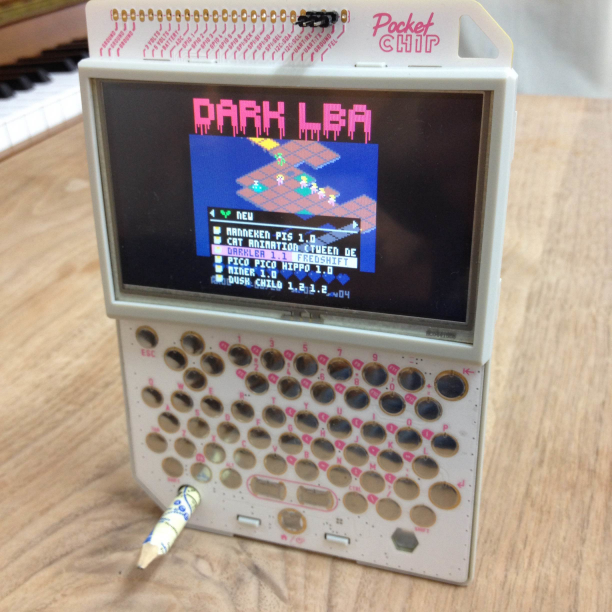 You can read more about the PocketC.H.I.P. over at getchip.com
::
Is there anything seriously different between the Pico-8 I downloaded and am running on Windows, and the one that comes pre-installed on the pCHIP?
I'm assuming there's nothing critical between the two and everything will be easily transferrable, but I've learned not to assume to much these days.
::
I think you can run every cartridge on the PocketCHIP as you can already do on the Raspberry Pi. See the video (http://getchip.com/pages/pocketchip). The cartridges are played from splore. I hope we can download cartridges and save changes. If not we will have to modify the flashed image. It may be a little bit more tricky but not undoable.
::
Yes, the tools and API are exactly the same and compatible; i.e. any cartridge made with any version of PICO-8 will run on any other version. Also, updates in the future will available (roughly) the same time as the main PICO-8 branch.
The differences are:
The pCHIP version will be a separate product that doesn't come with multi-platform licenses.
It has the html exporters, but probably won't have binary exporters if/when they become available.
Some minor interface differences to integrate with pCHIP
It has gpio mapped to pCHIP's pins, but other platforms will also be non-standard in that way too (e.g. the web version now allows pins to be read/written via javascript)
@Alazoral
That might be happening in the future! See: