Two-player deathmatch game. Players draw lines which will damage the other player if touched. Pick up ink bottle power-ups to increase your draw speed, ink reserve, and refresh speed. Includes 9 characters and 14 randomized maps.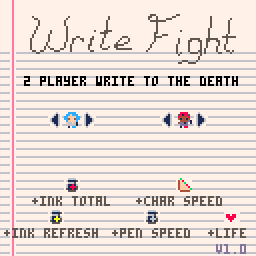 Player 1 keys: Cursors + Z / N
Player 2 keys: SDFE + tab / shift
X/Q change the player color on the home screen.
This is a complete version of my entry into Ludum Dare 32: An Unconventional Weapon. http://ludumdare.com/compo/ludum-dare-32/?uid=15743
P#10213
2015-04-25 18:30 ( Edited 2015-04-26 05:36)
:: More