Hello !
I am excited to say that apparently it is indeed possible to copy and paste music from Pico-8 to the Lexaloffle BBS and it creates an awesome jukebox interface besides. Here for instance is an example from @zep's own Hello demo.
So how is it done ? Well, it's tricky and I'm surprised anyone managed to figure it out. To the best of my knowledge, @Gruber is one of the first.
https://www.lexaloffle.com/bbs/?tid=35640
So how can you do it ? First bring up Pico-8 that has the music you want to paste Online. Make sure you are in the MUSIC editor, not the SFX. Now click HERE on the zero zero: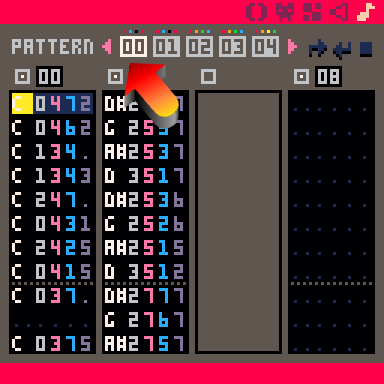 Now click this pink arrow HERE until you can no longer see colored dots above the numbers: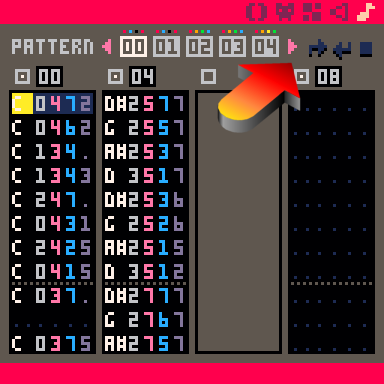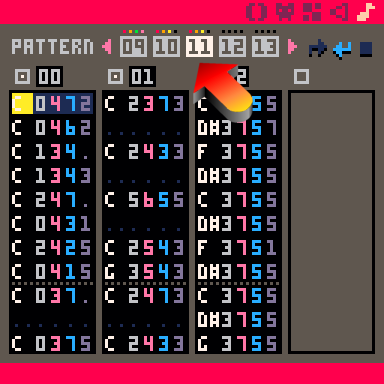 In this case, it is track 11.
Now HOLD DOWN THE SHIFT KEY and click the very last number that has colored dots above it. A visual change will appear so it looks like THIS: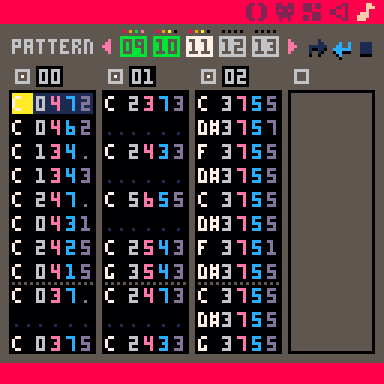 NOTICE the 9 and 10 are now GREEN. This means you can actually copy it now. Go press CTRL+C to copy all of this to the clipboard, it will work now.
Then in your message, hit CTRL+V to paste it. Do a preview and there it is, ready to play Online.
And that's it ! I think this will aid musicians out there to share their original music out there when all they want to do is have an Online jukebox for others to enjoy.
HOPE THIS HELPS !
P#68804
2019-10-12 17:43 ( Edited 2019-10-12 18:01)


also you can paste it back into pico-8.
click on [ sfx ] just under the player, right-click on the selected text, copy. in pico-8's music tab, click on a pattern first (took me a while to figure out) and ctrl-v.


Yep yep.
There's a problem with that though. the GREEN notes are not being transferred properly from BBS to editor. You can see this if you try to transfer @Gruber's song.
https://www.lexaloffle.com/bbs/?tid=35640
Just click the [SFX] button beneath, copy, paste, play, and it doesn't sound anything like what he posted.
Hopefully @zep will fix this next release - and show clicks in the music channels in the music editor so the user knows they have selected something.
P#68810
2019-10-12 19:18 ( Edited 2019-10-12 19:47)
[Please log in to post a comment]