This is my entry for the ToyBoxJam 2019. Goal of the jam was to use only existing graphics, sounds and music to create something new. I made the game on the go because i was traveling a lot around christmas and NYE. For the jam, i wanted to make something nice with the monster sprites. I thought about what the monsters would do in their dungeon when no hero is around. And it had to meet my skill-level and scope, because i had so little time.
The jam was fun and i learned a lot :)
Cart Full Name: Monster Speeddating
Alias on Itch.io it was submitted under: Lu_Bu https://lu-bu.itch.io/monster-speeddating
Cart Name on Lexaloffle: #monster_speeddating-0#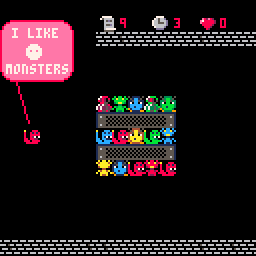 10 monsters are late to the dungeon-speeddate-event! Help them find the group with the most monsters they like. Every monster is different and likes different kinds and colors of monsters. But chose quickly: Each monster has only 3 seconds to find the right group!
Select the groups with the up and down buttons and send the monster to the group with the X button.
The more monster they like, the more points you get.
Happy dating!
P#71645
2020-01-01 21:48 ( Edited 2020-01-02 10:15)

&nbsp 2 comments &nbsp