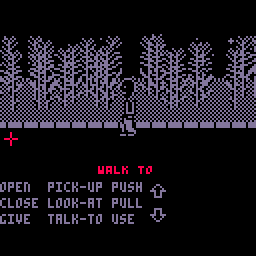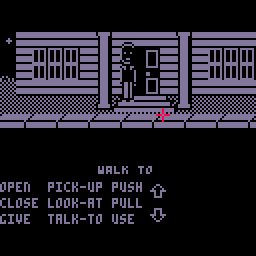 My entry to the 3-Color Jam (#3CJam), where you had to create a "spooky" game that used no more than 3 colours (and yes, Black is a colour!). It is an attempt to make a short adventure game, based heavily on the movie "Halloween" by John Carpenter.
I created it using my SCUMM-8 point & click adventure game engine (GitHub link)
However, due to the BBS web player not hiding mouse cursor and right-clicks,
I recommend playing it on My itch.io page (LINK)

Also, for the best effect: turn the lights down and the sound up or headphones)! :D
CONTROLS:
Mouse is recommended
(Arrows / Z / X - will also work)
A "POINT & CLICK" PRIMER:
If never played a "Point+Click" adventure game before...
Simply use the cursor and (left) click where you want the player to Walk To.
To interact with objects, click on the Verb you wish to perform, then click on the object.
For example, to Pick-up the Knife... simply click "PICK-UP" and then click on the "Knife" object in the scene.
When hovering the cursor over objects, their default verb/action (if applicable) will be highlighted. In this case, you can simply Right-click on the object for the default verb/action to be performed.
CREDITS & THANKS:
Code, Art & Music (cover): Paul Nicholas ( @Liquidream)
Additional design by Hilda Nicholas.
Original "Halloween" Music, Concept & Credit: John Carpenter
RELEASE HISTORY:

P#45709
2017-10-31 10:32 ( Edited 2017-11-02 12:04)

kittenm4ster


haha I'm not one for horror movies but this was fun and the ending was cheesy and predictable in the best way possible :D
What a good usage of your cool SCUMM engine! I caught your Thimbleweed Park reference in there ;)
Also, thank you for also making sure regular btn() input still works :)
P#45740
2017-10-31 21:44 ( Edited 2017-11-01 01:44)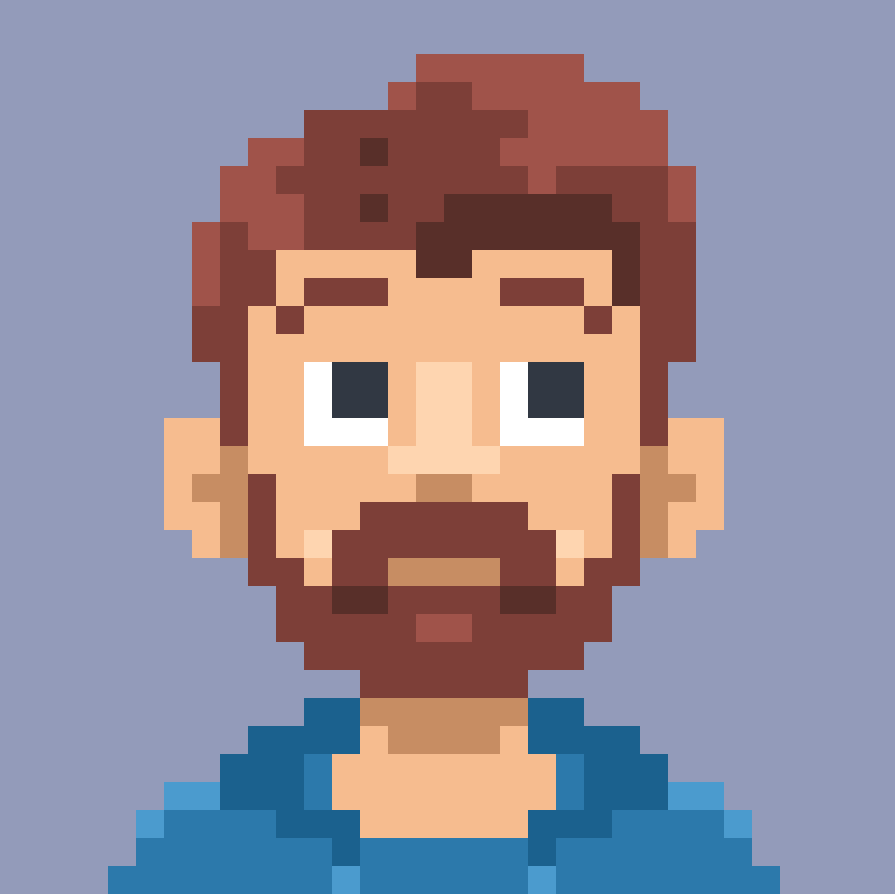 Liquidream


@kittenm4ster: Hey thanks a lot - glad you enjoyed it (& thx for not spoiling the ending!)
I'm so glad at least SOMEONE caught my Thimbleweed Park reference! That game (and the whole Ron Gilbert/LucasArts back-catalogue) are a huge influence on me, so seems rude NOT to give them a "nod" here & there! :D
No probs - I hope it played ok on gamepad/keyboard, I have to confess that most of my testing is always with the mouse.
Thanks again.
P#45755
2017-11-01 02:23 ( Edited 2017-11-01 06:23)
[Please log in to post a comment]