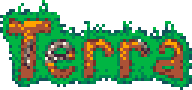 ---
This is the MULTIPLAYER TECH DEMO.
If you want to play the singleplayer version you can find that here.
---
A tiny fanmade demake of Terraria in PICO-8! Now with multiplayer!
If you haven't already, please consider getting the original game. This is only a small portion of what Terraria has to offer!
And if you enjoy this demake, please consider supporting me by buying one of my other games over on itch.io: https://pixelshock.itch.io/
Important! Before you make any progress:
This version does not have any support for saving and loading your game! That was one of the things I decided to remove in order to fit the multiplayer functionality in without modifying the core gameplay and progression. If you'd rather I remove the Plantera boss or something instead, then I'll see what I can do.
Controls:
How to play?

Features:
A large map of 256x128 tiles, stored using the extended memory.
Various biomes: Forest, Jungle, Corruption, Underground, Caverns, and Underground Jungle.
4 bosses: King Slime, Eye of Cthulhu, Ocram, and Plantera. (The Eye of Cthulhu and Ocram are night bosses and therefore can only be fought at night time)
Many enemies for each biome and underground, with most having multiple variants. (24 in total)
Slightly less fancy world generation with spaghetti caves.
Mining and crafting.
Various melee and ranged weapons. Ranged weapons automatically aim towards the nearest visible target, prioritising bosses.
A basic palette fade lighting system, with a day-night cycle.
Quite a few progression/recipe changes due to space limitations, details in the original version's thread. (Link in the banner above)
Life Crystals and Shadow Orbs to smash!
Issues:
Frequently Asked Questions (Probably) and Information
P#108886
2022-03-20 09:36 ( Edited 2022-07-21 07:42)
[Please log in to post a comment]