Hi! @zep I was wondering if we could have more ways to make the pico-8 code editor more customizable.
I think it would be really nice if the color-highlighting syntax stuff was changeable for what color it would display it as. so if I don't want numbers to be blue I could make them green etc.
this also goes for the background color which is changeable already but it would be nice to have some more options with that. (I really like the dark green background.)
Other options to change color syntax would be nice like function calls() being a different color from vars as well.. (maybe some other stuff too I'm not thinking about..)
Anyways it would be nice if you could make the code editor more customized to how you like to code, and having all of this be some numbers in the config file would be awesome!
For example if the function call stuff by default was still lightgray it would be nice to change that to be different. so even stuff that's the same by default could be changed if people didn't want it that way.
Anyways Here's a example of what I was talking about; if it isn't to much work I think this would just give more options to how people want to work in pico-8 without changing pico-8's editor by default at all.
Thanks for reading this! ^_^ (not sure if #bugs was the right place to post it but here)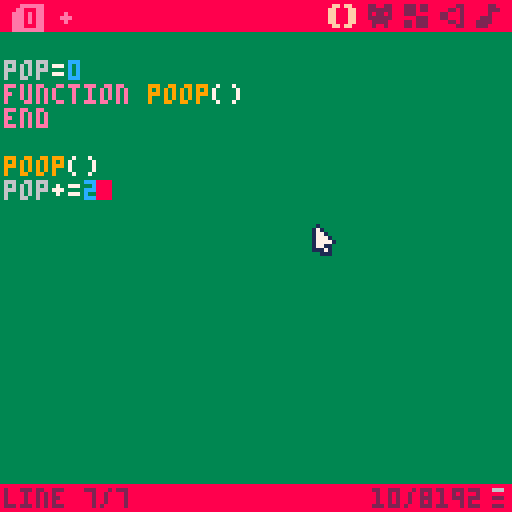 [Please log in to post a comment]