サイハ゛-ワ-ム Cyberworm
You are the only hope to save humanity from a monstrous enemy.
Epilepsy Warning: Contains flashing colors.
Level 1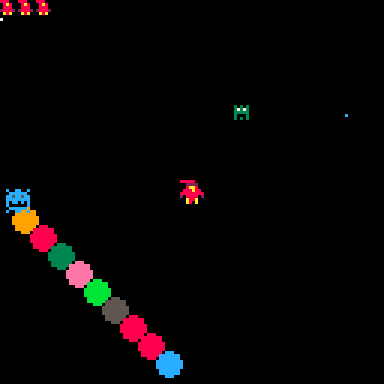 Level ??
Features
8-directional top down frenetic shooting action.
64 levels of increasingly teeming hordes.
Auto-checkpoints.
Deep, engaging storyline.
Original score - "The Ballad of the Worms"
Unique graphical style.
Multiple endings(2).
Controls
For the best experience, use a controller.
⬆️⬇️⬅️➡️ (arrow keys) to move.
Hold ❎(X) to shoot.
Hold 🅾️(Z) to lock shooting direction.
Notes
This is my first full length game, I hope you enjoy it.
For my next game I might do something calmer, perhaps a fishing game or a town builder.
Thank you for playing!
-Alex
P#99441
2021-10-31 20:57 ( Edited 2021-11-05 15:32)

&nbsp 2 comments &nbsp
I made this little game for my beautiful wife Heather for Valentine's Day.

I love you, Heather! Happy Valentine's Day!
P#87606
2021-02-14 00:09 ( Edited 2021-02-14 21:05)

&nbsp 2 comments &nbsp