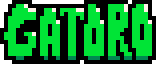 Take control of Gatoro, a cat that just saw a demonic entity appear outside his apartment.
Fight this strange visitor on the edge of your building roof.
Made for the #8bitstoinfinity jam with the themes "Boss" and "on the edge"

Toybox Omega

1

That was excellent! I like the patterns and Gatoro is really cute.
[Please log in to post a comment]