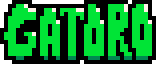 Take control of Gatoro, a cat that just saw a demonic entity appear outside his apartment.
Fight this strange visitor on the edge of your building roof.
Made for the #8bitstoinfinity jam with the themes "Boss" and "on the edge"

&nbsp 2 comments &nbsp
ISAIA 1314
Once an Angel, you betrayed your holy brotherhood and turned into a demon in the process. Fight your buddies turned foes in this arcade shoot em up.
Made for the #rndgame2021 jam with the random theme "Beasts of Treason".

&nbsp 0 comments &nbsp