PicoTown 1.1b3

PicoTown 1.1b2

PicoTown 1.1b

PicoTown 1.1

PicoTown 1.0

WINDOWS PORT ON ITCH.IO!
WHY IT WAS MADE
There was a jam on Itch.io called CITY SIM JAM 2016. I decided to take part in it and made THIS. A little SNES SimCity clone on Pico-8. NOT a total clone, mostly idea borrowing (zoning, fundamental city concepts) with some Transport Tycoon stuff (buses, monorails, trains).
HOW IT WAS MADE
It was made in Pico-8 :) but seriously, I posted a complete devlog of it on Itch.io: [the devlog]( https://itch.io/jam/citysimjam2016/topic/23389/picotown-devlog?before=28#post-24076) and tweeted with #PicoTown and #citysimjam hashtags.
WHEN IT WAS MADE
It was made in 4 days of really working (not playing SimCity or Transport Tycoon or The Sims 2).
AN OBLIGATORY GIF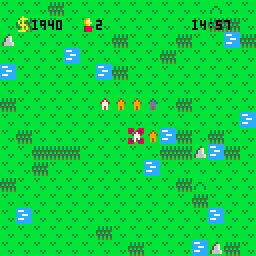 CHANGELOG
1.1b3: - and another.
1.1b2: - fixed another trash bug
1.1b: - fixed sewage and trash
1.1: - added disasters
1.0 - initial release
LAST WORDS
If you read all of this, I wish you luck and have a good time playing PicoTown.
If the game doesn't work, fullscreen it or download the Pico-8 cart using Splore.
See the Itch.io page for more, including a Windows port: Itch.io page
Oh, and support me in #citysimjam here: #citysimjam page
P#20577
2016-05-14 17:03 ( Edited 2016-05-24 11:08)
[Please log in to post a comment]