A River Raid heavily inspired game.
Shot on enemies and avoid hitting the ground on this classic inspiring gameplay.
Run for your highscore at an infinity loop map.
Controls:
-Left and right to move the airplane;
-(X) to shot.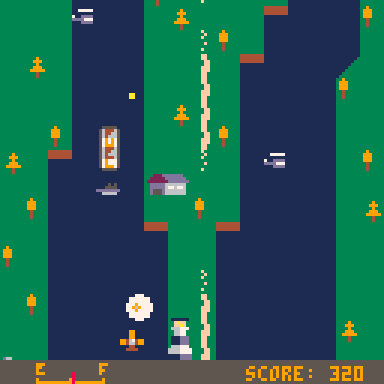 This is my first Pico-8 cartridge. I'm open to suggestions! =)
Update 0.1.1:
Tinny gradual turning;
Change sprite at turning;
Bullet hitbox more accurate;
Player hitbox adjusted;
Mobs hitbox adjusted;
Added window at game over screen;
Better distribution of the bottom bar;
Show highscore at the bottom bar;
Some minor bug fixes;
(yet with just one life).
P#112495
2022-05-31 01:21 ( Edited 2022-06-07 01:23)

&nbsp 4 comments &nbsp