Your ship has stopped in deep space to perform repairs. The crew are on a spacewalk when suddenly predators warp in from hyperspace. Save the crew!
Frantic shoot-em-up action inspired by 8-bit classics such as Uridium, Defender, Robotron, Asteroids and Thrust.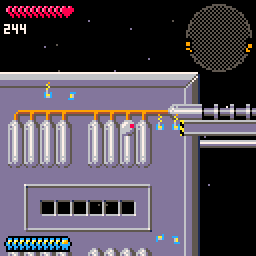 The controls are explained on the title screen.
You'll get a higher score the more risky your play:
fly fast to get a score multiplier for each kill
the bogies evolve to more dangerous forms that are worth more points
you can earn big points by rescuing crew members far from the ship
There are four different ships. You'll encounter new challenges on later missions, and need to adapt your tactics.
You can also speedrun each level – your time is shown in the level complete screen.
The music is by @Gruber.
How high can you score?
Gameplay Tips
Version History
1.0 - first public release
1.2 - Fixed colours of cart image in splore browser
1.3 - Improved appearance of ship in response to player feedback
P#102381
2021-12-11 10:16 ( Edited 2021-12-22 22:28)
[Please log in to post a comment]