Hi! First of all sorry for my poor English. I'm proud to present you my first ever video game: R0-Ace (a 8191/8192 tokens hell 😜). It's a shmup inspired by the danmakus and bullethell Japanese games. There is 5 levels with bosses and sub bosses: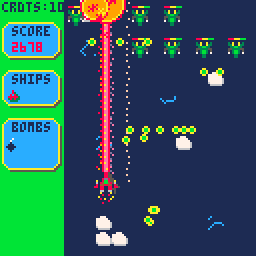 If you find anything wrong or any bug please report it. This is the Easy mode version. In the near future I'll release three more game modes.
Thank you for playing!


This is really fun. Any chance it could push up to 60fps in order to feel even more responsive?
[Please log in to post a comment]