A work in progress remake of Wetspot 2 by Angelo Mottola.

Gameplay closely follows the original.
Work in progress.
First world complete, penguins can't shoot snowballs for now.
Please give feedback on this!
P#39684
2017-04-15 08:11 ( Edited 2017-04-17 15:02)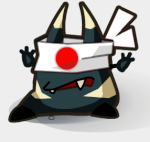 Jackamikaz


I love the music! Just can't wait to be king :D
The gameplay is fun, maybe there sould be a restart option in the menu.
P#39733
2017-04-17 11:02 ( Edited 2017-04-17 15:02)
[Please log in to post a comment]