It's that time again! If you're planning to take part in Ludum Dare 48 hour game dev event and are near Kichijoji/Tokyo, drop by Lexaloffle HQ (Pico Pico Cafe) with your laptop! The cafe will be open to the public until 23:00 as usual, but after that I'll also keep it open until 4:15am both nights for fellow LD night owls.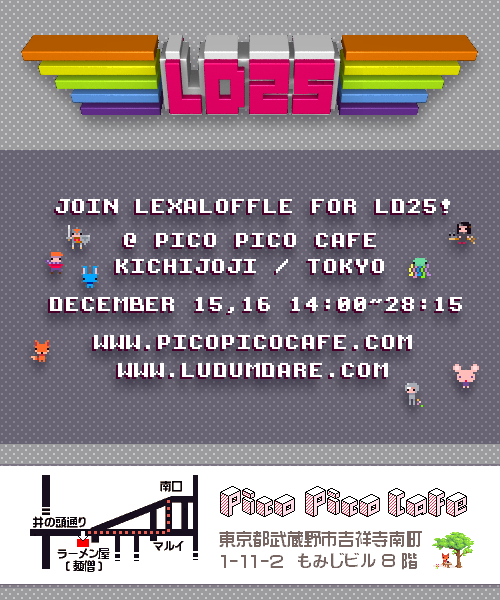 <!blogbreak>
:: Ludum Dare 48 Hour Game Development Event
Join us for Ludum Dare #25! Ludum Dare is a 48 hour game development event that happens online all over the world. People take part either solo or in groups to make a whole game in just 48 hours, based on a theme that is provided at the start of the event. There are no prizes, except the sweet glory of making something and sharing it!
Pico Pico Cafe is hosting a venue for participants who would like to collaborate or just hang out during the event. The cafe is open as usual, but we have wifi and power for those taking part. Also, we'll keep the cafe open until the first train each night of the weekend (at which point, you're welcome to bring in your own snacks and drinks).
Where: Pico Pico Cafe / Tokyo / Kichijoji
When: December 15th, 16th / 14:00~28:00 (but come for just one day or a short time if you like!)
Charge: No extra charge, but the cafe will be open as normal 14:00~23:00 each day.
Event Website: http://www.ludumdare.com
:: Event Rules
There are two sub-events that you can choose from:
Solo (48h). Each game must be made from scratch, and submitted with source-code. Only free tools may be used, and no previous assets (music, graphics) may be used.

Team (72h). This category of the event is much more relaxed. Any number of people can work on the game, previous code and graphics may be used, and there is no need to submit source code.
At the end of of the event, participants are invited to play and rate games for the following 2 weeks, after which the results are tabulated and a winner is delared!
Any computer language / platform can be used, but remember that if the judges can't play it, they can't judge it!
:: RSVP
Please RSVP before the event so that we can manage numbers!
Send the following information to joseph[at]lexaloffle[dot]com / natsuko[at]lexaloffle[dot]com
Name:
Contact Email:
Category: [ ] Solo [ ] Team
Skill(s): [ ] Programming [ ] Graphics [ ] Music [ ] Audio [ ] Level Design
When are you likely to be at the cafe? (roughly)
Twitter:
:: Schedule
December 15th (Saturday)
11:00 Theme is announced online, LD#25 begins
14:00 Pico Pico Cafe opens. Quick briefing and team formation
14:30 Start making games
23:00 Cafe closes to public
28:15 Close
December 16th (Sunday)
14:00 Pico Pico Cafe opens
23:00 Cafe closes to public
28:15 Close
December 17th (Monday)
11:00 LD#25 solo event ends (submission deadline)
December 18th (Tuesday)
11:00 LD#25 team event ends (submission deadline)
::
New User