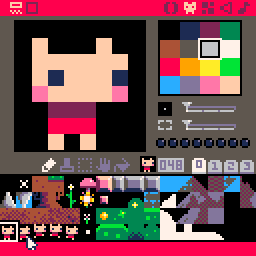 Welcome to PICO-8!
PICO-8 is a
fantasy console
for making, sharing and playing tiny games and other computer programs. It
feels
like a regular console, but runs on Windows / Mac / Linux. When you turn it on, the machine greets you with a commandline, a suite of cartridge creation tools, and an online cartridge browser called
SPLORE
.
---
Specifications
| | | |
| --- | --- | --- |
| Display | | 128x128 16 colours |
| Cartridge Size | | 32k |
| Sound | | 4 channel chip blerps |
| Code | | P8 Lua |
| CPU | | 4M vm insts/sec |
| Sprites | | 256 8x8 sprites |
| Map | | 128x32 tiles |
The harsh limitations of PICO-8 are carefully chosen to be fun to work with, to encourage small but expressive designs, and to give cartridges made with PICO-8 their own particular look and feel.
Creative Tools
PICO-8 has tools for editing code, music, sound, sprites, maps built right into the console. Create a whole game or program in one sitting without needing to leave the cosy development environment!
Shareable Cartridges
PICO-8 cartridges can be saved in a special .png format and sent directly to other users, shared with anyone via a web cart player, or exported to stand-alone HTML5, Windows, Mac and Linux apps.
Any cartridge can be opened again in PICO-8, letting you peek inside to modify or study the code, graphics and sound.
Explore the Cartverse
PICO-8 comes with a built-in cartridge browser called SPLORE, for searching and favouriting carts from the online collection.
Community Resources
PICO-8 has a friendly community of users collaborating, sharing knowledge and creating tools, snippets and tutorials. Check out what people are up to on the forums, twitter, and other places.
Just Add Hardware
PICO-8 is tiny to download, easy to install, and will run on almost anything! To use PICO-8, you'll need either Windows, a Mac, Linux (i386 / amd64), or a Raspbery Pi (pictured) with ~700MHz CPU. Turn your old unused netbooks or microcomputers into PICO-8s!
Get PICO-8
Enter your email address below, choose a payment method, and you will be emailed a download link. Purchasing PICO-8 also gives you access to all future updates. If you have any trouble, please feel free to
email us
.