I'm currently rebuilding Invader Overload for an update and also plan to extend that title into other shooter games. Invader Overload made generous use of the tweetjam carts as animated backgrounds. It made the game what it is...I just added some space invaders on top of them.
I'm looking for more animated backgrounds. The art carts that made up the tweetjam thread don't come to me naturally but many of you it seems like second nature.
Here are a few examples of the backgrounds I used that were made by others: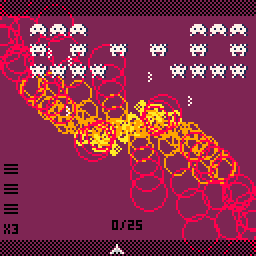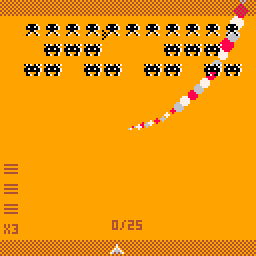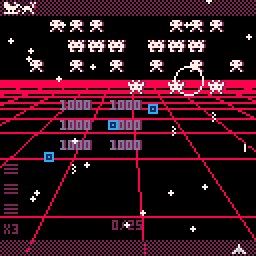 If these animated art demo things are you bag or just like making them, please consider posting a cart and/or sharing the code behind them. There's a good chance it will end up as a background in Invader Overload or spin-off game in the near future.
While tokens are an overall concern, I'm not too worried about it. I'm pretty good at refactoring once I have code in my hands, so share what you will.
The only restrictions are:
The animation must make use of cls() as the rest of my game does so
No sprites
Nothing too crazy...remember, it's still a background
I appreciate any and all interest in helping with this project. Invader Overload has gotten a lot of positive reviews and traction when showing it off, so there's an audience that will certainly be seeing your work. Credit will be given certainly within the code as well as secondary credit screens in-game.
Any questions or code, please post a reply or hit me up on Twitter - @morningtoast - Thanks!!
P#34563
2016-12-30 22:29 ( Edited 2016-12-31 03:29)
[Please log in to post a comment]