This is my entry for Toy Box Jam 2019. All the art assets were supplied for this game jam.
Try to get the little Rocket Dude through these levels!
Controls
Left/Right Arrows: Move
Up Arrow: Enter Doors
Z: Rocket Boost
Credits
Art / Animation by Lafolie, Toby Hefflin, That Tom Hall
Sound effects by Lafolie, Gruber, That Tom Hall
Music by Gruber, That Tom Hall
https://itch.io/jam/toy-box-jam-2019
TOYBOXJAM #Pico8 #TBJ2019
P#71661
2020-01-02 02:34 ( Edited 2020-01-14 08:09)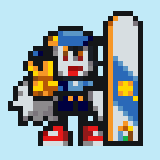 chungus_is_gay


This game is great, but Level 2 is pretty much impossible. Is there something I'm missing? I spoke too soon, I found the solution.
P#71754
2020-01-04 14:33 ( Edited 2020-01-04 14:36)
[Please log in to post a comment]