220331
Minor bugfixes
Pressing O to skip the last cutscene didn't reset the game
One of the levels had an unintended moving platform
About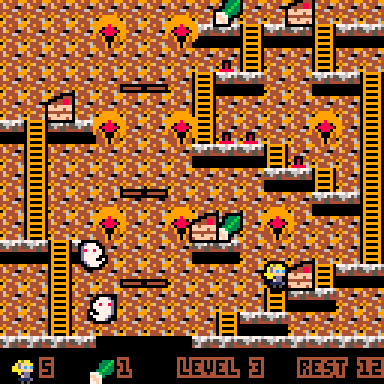 Dambi was running low of the essential winter supplies, and she decides to raid the nearby snowmen's den. After all, they're natural competition for the same ecological niche.
This is a sequel to Dambi Gest Ready for Winter, and as such it looks quite similar with the recycled assets all over the place. Gameplay-wise, it's quite different as the enemies now actively chase Dambi. These snowmen are the first enemies in my games that can go around obstacles and chase the player -- not in the most efficient manner, but still.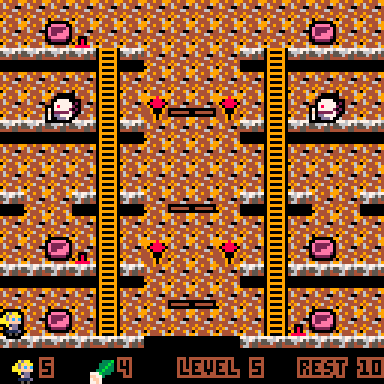 Pressing X jumps and pressing O will drop a radish. When a snowman comes in contact with a radish, it will turn green and be immobile for a brief period of time, and Dambi won't take damage from it in this state -- this will be necessary in some levels.
Dambi won't lose a life when contacting enemy as long as she has one or more radish -- she'll lose all radish but be able to continue. But when she falls below the level or touches an enemy when she has no radish, she'll lose a life and the stage will reset.
The game starts with 5 lives. While there's no extra life, the radish can be found on most levels. There are a total of 15 levels. The first level is always the same, but the rest of them appear in randomized order. I don't know, I just like doing this.
The way the levels are organized around the ladders and the movement patterns of the two enemy types take inspiration from Chuckie Egg on ZX Spectrum.
The controls may not feel right if you use a controller with an analogue stick, as it's easy to enter unwanted direction while moving up/down ladders. The game plays bad with a 360 controller (both stick and D-Pad), XBone is better if played with D-Pad, Saturn and SNES replicas feel pretty good. Maybe there's something I can do about the stick, but I'm not sure what yet.
P#108533
2022-03-13 07:34 ( Edited 2022-03-31 12:45)
[Please log in to post a comment]