PICO-8 is a fantasy console for making, sharing and playing tiny games and other computer programs. When you turn it on, the machine greets you with a shell for typing in Lua commands and provides simple built-in tools for creating your own cartridges.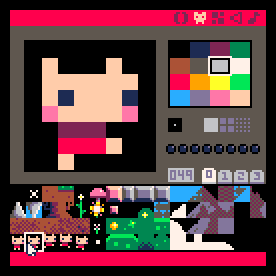 Specs

Display
128x128 16 colours
Cartridge Size
32k
Sound
4 channel chip blerps
Code
Lua
Sprites
128 8x8 sprites
Map
128x32 cels
Controls
D-pad + 2 buttons



The harsh limitations of PICO-8 are carefully chosen to be fun to work with, encourage small but expressive designs and hopefully to give PICO-8 cartridges their own particular look and feel.
Creative Tools
PICO-8 has tools for editing code, music, sound, sprites, maps built right into the console. Create a whole game or program in one sitting without needing to leave the cosy development environment!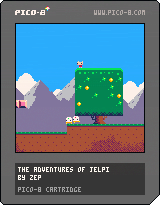 Shareable Cartridges
PICO-8 cartridges can be saved in a special .png format and sent directly to other users, shared with anyone via a web cart player, or exported to stand-alone HTML5, Windows, Mac and Linux apps.

Play BBS Carts
Get PICO-8

Become a registered user of PICO-8 and receive access to DRM-free downloads for Windows, Linux, Mac, and Raspberry Pi along with all future updates. You can buy PICO-8 separately, or included with Voxatron (see below).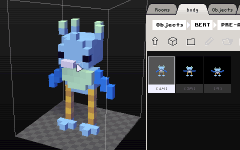 Special Offer!
For $5 more, PICO-8 is also available to users of Lexaloffle's other fantasy console, Voxatron. If you already own it, please check your updates page!

Note: This offer will expire when Voxatron goes into beta, but all PICO-8 users will continue to receive updates.
PICO-8 for Schools
Every copy of PICO-8 comes with a site-wide license for an entire school, workshop or other similar educational space. Discounted take-home licenses for individual students are
also available
.
System Requirements
To use PICO-8, you'll need Windows, Linux, a Mac or a Raspbery Pi with a 700MHz cpu and any video card.
Generated 2018-11-17 07:40 | 0.085s | 1310k | Q:0